BTS Jimin, celebrating his 27th birthday (Korea age), received congratulatory messages from fans, celebrities, official accounts, and media worldwide. Also, he achieved a third new record, occupying a total of 28 real-time trends.
At midnight (KST) on October 13, Jimin's birthday, a hashtag containing congratulatory messages from fans worldwide occupied a whopping 28 of the world's top 30 real-time trends. So, they set a new world record for the 3rd time. established
About 30 minutes before the start of Jimin's birthday festival, the hashtag '#JIMINDAY' entered the top of the world's real-time trend. Then, it was followed by '#OurAngelJimin' at midnight on October 13. The worldwide fans greeted the long-awaited birthday of Jimin.
Jimin became the first person in Twitter history to shake off the unprecedented dignity of the 'real-time trends king' by sweeping 28 of the world's real-time trend ranking on his birthday in 2019. Even on his 26th birthday in 2020, he swept 28 of the top 30 trends, setting the world's first record, and this year marks his third year.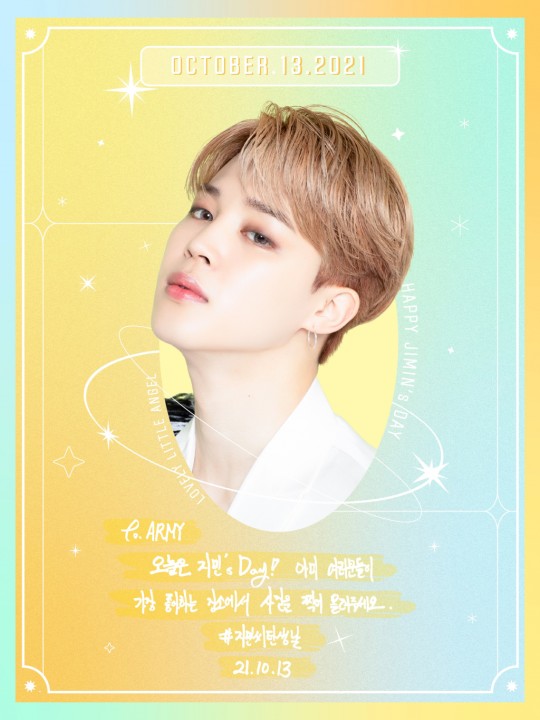 BTS Jimin's record, which no one has ever beat, remains the same. Jimin set a new record on October 13, 2021, marking his third new record. In short, he is miraculously creating a new history.
In addition, fans' happy birthday messages to Jimin on the fan community platform Weverse dominated all the top 20 in the real-time popular post ranking 'Discover,' and the hotter 'Jimtober (Jimin+October)' festival was held than ever.
Jimin's birthday month, 'Jimtober,' is one of the biggest events and festivals of the year. His birthday is famous for celebrities, media, official accounts, and fandom sending out congratulatory messages.
World-class celebrities such as Canadian actor and director, Hollywood Hall of Fame member William Shatner, Irish singer-songwriter Gavin James, entertainment journalist Bryan Rolli, Billboard News Host Tetris Kelly, and WHO Social Media Director Sari Setiogi Griberg celebrated Jimin's birthday in the early morning of October 13 (KST).
Not only popular music and entertainment such as Elle Japan delivered their greeting to Jimin. Various official accounts and media outlets rushed to deliver their greetings to Jimin. It includes Microsoft Store, Spotify, AWA, Twitter Music, Amazon Music, World Music Awards, GMA NEWS, LR Entertainment, Pringles UK, Pinterest, Screen Mix, TNT LA, Genius Korea, MTV, Affinity Magazine, EXA TV, RCA Records UK, Telehi Musica, WORLD PRO TV, and Akpraise.
GMA Public Affairs, a news producer under the Philippine news channel GMA Network, uploaded its own video on TikTok and Twitter. The video shows answering questions such as 'Favorite Singer' and 'Favorite BTS Member' with 'Jimin.'
The music streaming platform Claro MusicaCO shared a mobile phone background screen made of Jimin's face.
At BTS Jimin's birthday, which began at midnight on October 13 (KST), Jimin celebrated his 27th birthday in three hours, setting a third Twitter trend record. He received more than 100 celebrities, media, official accounts, congratulatory messages regardless of the global time difference.
HAPPY BIRTHDAY TO BTS MEMBER JIMIN!