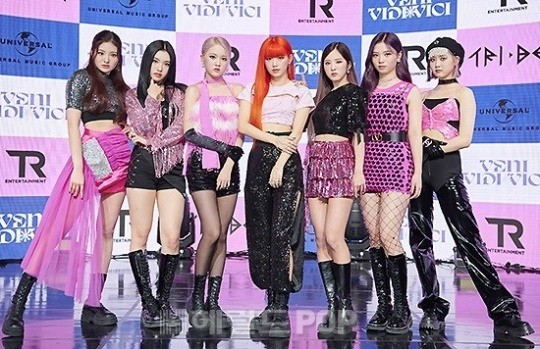 Kpop group Tri.be (Songsun, Kelly, Jinha, Hyunbin, Jia, Soeun, Mire) made a comeback with more confident energy. On the afternoon of October 12, they held an online showcase celebrating the release of their first mini-album, 'VENI VIDI VICI.'
Tri.be debuted as the youngest group in February of this year. This album 'VENI VIDI VICI' contains their bold aspiration to go on the road of Tri.be as if conquering a new world they haven't been to yet.
Songsun said, "If I've shown strong and powerful performances, I'm happy to be able to show other charms such as unit and vocal tone through this album."
"This is already the third activity. At the beginning of my debut, I was nervous about performing, but now I am enjoying it, especially in the broadcasting part," Hyunbin said.
The title song of the new album is 'Would You Run.'
It is a song with a tense brass riff and dynamic rhythm.
Songsun says, "It is a song with a profound ambition to go to space in search of novelty, and expresses our energy. Just listening to it will charge you with more energy."
Hyunbin said, "I will show you the aurora light through this activity. This is because we can show our different colors and concepts through songs and unit songs."
Also, Kelly said, "This title song is more mature than all songs. That's why it's going to be a different album."
Then, Jia said, "I think we can show different feelings for each part of the members. Not only the title song, but the songs included are all different attractions."
In fact, Songsun participated in the b-side song 'GOT YOU BACK' and worked with Shinsadong Tiger. 
"They told me to write the song first. Thanks to this, I have worked on various styles of music. They told me to put my emotions in it, so I was able to create a song like this," Songsun said.
Regarding the two unit songs, Songsun said, "We have a performance team with members who can show strong images and members who show vocal attractiveness."
Another b-side song, '-18,' was judged ineligible for broadcasting for reasons such as pronunciation. Member Hyunbin said, "At first, before writing a song, I personally asked what I wanted to do as an adult. Then, we made it into rap lyrics," she said.
As the modifier they want for this activity, Hyunbin said, "It has a more leveled spiciness and space-class performance."
In addition, Songsun said, "I want to be in the top five on the music chart. I hope the more you listen to it, the more you fall in love with it, she said.
"I want to be in the top candidate for the music show," Mire said.
Meanwhile, Kpop group Tri.be will release their first mini-album today at 6:00 pm.
Read More About: Red Velvet Yeri Boasts Her Body Flexibility